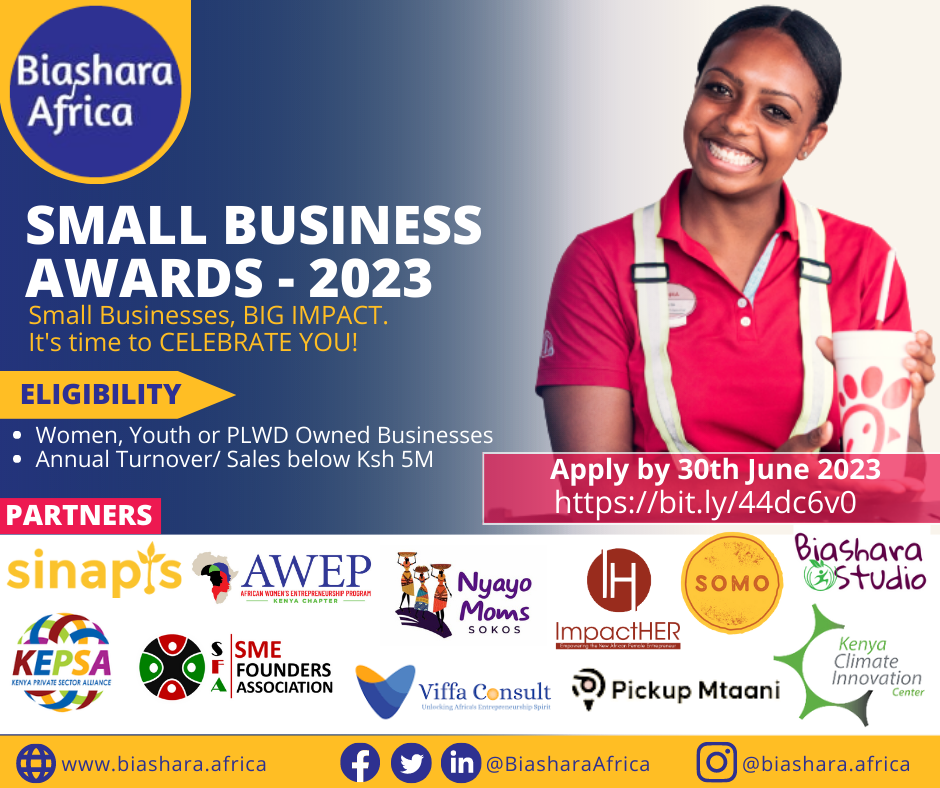 CALL FOR APPLICATIONS – SMALL BUSINESS AWARDS 2023 
To participate kindly APPLY on 
https://bit.ly/44dc6v0
 by Friday, 30th June 2023.
The Small Business Awards aims to celebrate;
Women, Youth and PLWD Owned Small Businesses in Kenya that have demonstrated exceptional performance in innovation, sustainability, social responsibility, customer value, and financial performance and
Organizations that support these Small Businesses to thrive.
Eligibility Criteria: Participating small businesses need to have an annual turnover (sales) of less than Kenya Shillings 5M or/and less than 50 staff.
The theme for this year's award is Celebrating Resilience and Society Impact.
This will be a great opportunity for you to;
1. Gain recognition & exposure
2. Get opportunities to pitch your business in various forums.
3. Join the community of Small Business Leaders and get networking and training opportunities.
To participate kindly APPLY on https://bit.ly/44dc6v0 by Friday, 30th June 2023.
The Small Business Awards 2023 is organized in partnership with Kenya Private Sector Alliance (KEPSA), ImpactHer, Sinapis, AWEP Kenya, SME Founders Association, Viffa Consult, Nyayo Moms Sokos, Somo Africa, Pick-Up Mtaani, Climate Innovation Center – Kenya, and @BiasharaStudio
#smallbusinessawards2023 #letscelebrateyou #smallbusinessawards #CelebratingSmallBusinesses #celebratingentrepreneurs #celebratingsuccess #celebratingwomeninbusiness #celebratingyouthinbusiness